26 December 2011 
One of the best things about Christmas time is that, mixed in with bills and circulars, more often than not, there is a beautiful card or photo from a friend or family member to look forward to. Isn't it funny how receiving something personal changes the whole vibe of the mailbox experience? Being that the excitement of receiving Christmas cards never lost its luster to me, I still flip through the pile, tossing statements and form letters on the ground around me, enthusiastically rooting for the red and green envelopes, or ones with a handwritten address on the front. When we were little, Jaime and I had to divvy up the goods, and I remember trying to read the return addresses as quickly as I could, hoping to score the ones from people we knew, rather than those from local business owners or politicians. How sad is it that I still do this, only now to my four children? The mail truck comes, the bright-eyed little ones rush to the door, and the big goon of a mom pounces out of the kitchen like a linebacker, elbowing, shoving, taking no prisoners, tackling the mail carrier on the front step. It can get ugly, but that's the holidays, my friends. Buck up.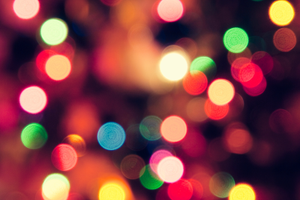 Normally, I would write in detail here about my year, but I want to keep a festive mood, so I'll just summarize. I lost my uncle, I lost my grand-uncle, I lost my grandmother, I lost my job, and my children cry themselves to sleep every night because of said losses. We took a vacation in the summer to get away from things for a few days, and I got so sick that I had to be wheeled out of Epcot Center in a wheelchair. This week, while looking forward to new traditions that will keep the crying children from getting too sad on Christmas Day, Aidan came down with a nasty case of pneumonia, and has been in bed for 5 days. Fa-la-la-la-la. 2011, please don't let the door hit you too hard on the way out, okay? 
I admit, I'm laughing while I write this, even though it's true, because what else is there to do? I'm perfectly aware of how lucky we are despite the trials and tribulations of this year. I've been reminded to simplify, stop and smell the roses, and count my blessings, which are many, but the greatest of all being our four beautiful, funny, healthy, mostly-good kids (we have our eye on that little one), who – if recuperated enough – will partake in the Christmas Pageant on Saturday, which should be hilarious. The girls, who have been taking dance and theater for years now, are beside themselves because they were cast as "Group B". Oh, the carrying on! "Group B!...Couldn't we at least be townspeople, or something like that? …Group B?! That must be THE most important group in the Bible!" Their brother, who hates the spotlight, was picked to be Joseph, and the only reason he has agreed to participate is because Joseph has no speaking lines; he simply has to stand beside the manger and stare out yonder. We joke with him sometimes, yelling spontaneously, "Aidan! Be Joseph!" which is his cue to freeze, close his mouth and look off into the distance. After watching him in the rehearsal, though, I will also have to remind him not to blow off Mary, leaving her a good 5-feet behind him with Baby Jesus, as they process out of the church. 
Merry Christmas and Happy New Year! May the Lord bless you with lots of love and laughter in 2012.