21 January 2008 
Due to holiday interruptions, and the fact that the Daisy troop only meets every other week to begin with, Ashley and Juliet had been waiting very anxiously for the Girl Scout meeting that they finally attended on Monday night. For some reason, as the troop leader, it just didn't seem like I had to wait quite as long before the meeting was upon us, and naturally, on Monday morning, I was scrambling to develop an activity that would cover the bases and qualify the troop for another petal patch. 
Since the dark purple patch is awarded to troops that participate in an activity that promotes respect of self, a tea party theme was selected, with a lesson on manners neatly attached. It was a hit in every capacity! With plastic cutlery, the girls enthusiastically learned about formal table settings, and with pretty pink napkins, the Daisies had a ball politely dabbing the corners of their mouths. Most of all, however, they enjoyed the giant bin of dress-up clothes that we brought from home, from which they each selected formal attire, appropriate for the occasion. 
As luck would have it, with all the eloquent tossing and yanking of boas and tiaras, out of the bin popped a little magnet that is covered in soft material and resembles a chocolate chip cookie. It was part of a toy that the kids had when they were really small, and I didn't realize it was still around. What is funny about the little magnet cookie is that, right after I had my cochlear implant surgery, in which a magnet was strategically placed inside my head to hold the external speech processor in place, Ashley, Juliet and Aidan (then 3, 3 and 1) thought it was the world's funniest magic trick when I would stick the cookie to my skull, just behind my ear. (What a deranged mother won't do to entertain the crew on a rainy day, eh?) 
Sure enough, when it popped into the air at the meeting, in a spray of hot pink feathers, Ashley and Juliet recognized the cookie and recalled my freakish talent. "Do it, Mommy! Show them!" they exclaimed. Trying to divert their attention, I shook my head and motioned toward the other girls. With great delight, they once again squealed, "Come on, Mommy! Do it!" The other girls heard them, and although they didn't have a clue what they were asking for, they joined in the pleading, "Yeah! Show us!" they cheered.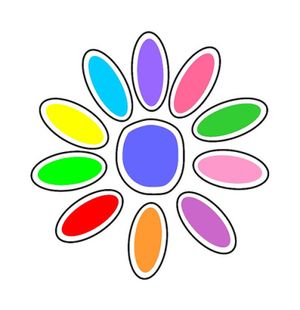 Exercising superior judgment, I smiled and said, "Okay," as I held up the magnet, pulled back my hair, and without any warning, slapped the cookie on the side of my head, where it – as far as the room full of 5 and 6-year-old girls were concerned – defied the laws of physics, and sat hauntingly, without reason. 
As Ashley and Juliet howled with laughter, every other child in the room stared – speechless - with bulging eyes and gaping mouths. Some were confused and others were genuinely horrified, but they remained transfixed on the madness before them. Suddenly realizing what trauma I might have inadvertently inflicted upon their psyches, I snatched the cookie off of my head, and tried to explain how it worked. "No, no…it's not magic! I have a magnet in my head!" That helped. This time, not only did they cast ghastly glances, some literally gasped. 
Though it took some quick and fancy talking about why they should find it as amusing as my children, they eventually relaxed a little bit, and were able to see the humor that Ashley and Juliet found in my unique capabilities. We formed a circle, sang the Friendship song, and bid farewell. They certainly earned their purple petal that night, but I can only imagine what it will remind them of in the future! 
Posted by Heather High Kennedy at 
7:04 AM