10 March 2009 
Did you know that President John Adams was a noteworthy public sleeper? That is, according to my third-grade daughter, who is currently working on her first research report. It turns out, the entire family is learning a multitude of lessons from this one assignment. 
After much deliberation, Kiddo finally decided on Lucille Ball as the subject of her biography project. Now, being an English teacher, I should have noticed the red flags flapping wildly about the availability of research material on the child's reading level; however, I was so happy that she finally made up her mind, I was too busy dancing to think that far ahead. In fact, I remembered that our school library had a dusty, old book about Lucille Ball that sat on the shelves for ages. Surely it would be there, and I could borrow it for a week. As luck would have it, though, the book was checked out for the first time in two decades the very day I needed it.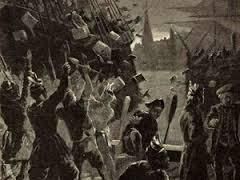 I called my husband, and asked him to investigate the situation at Barnes and Noble. Very excited, he reported that there was, indeed, a paperback book available, and that he would pick it up on the way home. Proud as a peacock, he walked in the house as a genuine hero who had saved the day. As Kiddo stood brimming with anticipation, out of his coat her father plucked a 235-page biography with what appeared to be 6,000 words per page, all about the sordid details of the Ball-Arnaz marriage and divorce. Back to the drawing board. 
In the end, she selected Abigail Adams as the subject. As I mentioned, I'm an English teacher. I spend most of my days helping kids sift through research material and organize their ideas into logical sequence, so I figured this was going to be a breeze with my own child, who was in third-grade no less. Wrong again. Kiddo apparently knows more about reading and writing at the age of 8 ½ than I could ever hope to know with a degree in literature, and as we sat – locking horns over simple details – she taught me these facts: President John Adams was a noteworthy public sleeper; Abigail Adams flavored equal rights for women; and the Revolutionary War began when the colonists got tired of all the taxis.