29 April 2009 
Carol Brady never sprayed her children with Lysol, I do realize this; however, there's something about celebrations involving pretty white dresses that brings out the madness in women. Certainly, we've heard horror stories about Bridezillas, otherwise normal females who momentarily morph into egocentric, fire-breathing dragons while preparing for the happiest day of their lives. Often overlooked, however, is the smaller-scale, L'il Zill – the mini-maniac who shows up in the midst of other white-dress occasions, such as graduations and First Communions. She's not as intense or offensive as Bridezilla, but can often match her in terms of irrationality. 
I almost refused to allow my daughters to get a fancy First Communion dress, because I worried that the deeply significant meaning of the occasion would be lost with the materialistic element of fashion. As the time drew closer, however, I gave in. As good as my intentions were, it would take a stronger woman than me to resist the opportunity to make a fuss, and dress up her baby girls – perhaps one last time, before they reject the innocent puff and fluff of formal childhood attire.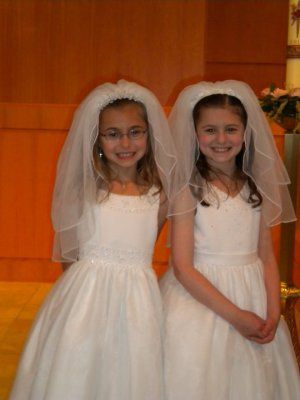 Two full days of our lives were spent at Betty's Children's Shoppe, in Prospect Park, where I clearly remember picking out my First Communion outfit. The twins once again demonstrated their individuality during the selection process, but after many long hours, dresses, gloves, sweaters, white shoes and beautiful veils were finally acquired. 
Last Saturday, however, with a week to go until the big event, just after I dropped off the frocks for pressing and ordered the cakes for the festivities, my 6-year-old son got sick. Naturally, I was worried about him, but instead of Mommy coming to his side, he got L'il Zill. His confused face flipped around in mid-air as she stripped the bed from underneath him, boiled his clothes, and possibly brain-damaged his pet fish with the lethal level of Lysol sprayed inside his quarantined room. L'il Zill was genuinely concerned for the boy, but equally determined to rid the place of germs; the last thing she wanted was one of the girls tossing her cookies on the beautiful, white dress. 
Today, our house smells like a swimming pool. Everyone in the family is now blonde and needs a new eyeglass prescription. Hopefully, L'il Zill exterminated the bug, but she might also have decimated herself. In the wake of her madness, I plan to use my new glasses to help me focus on what's important – in sickness or health – on Saturday.