I lost a friend this year. He wasn't my best friend. He had never been my boyfriend. He was not even a friend that I had seen very recently, but he was a dear friend from my youth - someone I laughed with, hung out with, someone whose parents' house remains the setting of some outstanding Halloween antics, at least, in my memory. 
Bill Brogan was a 16-year-old firefighter when I met him as an incoming freshman to the high school band. We were both drummers, thus members of the percussion section, something synonymous worldwide with tomfoolery, undoubtedly for good reason. Stretched across the entire length of every band room in the universe, resides a mixed-up conglomeration of instruments of various sizes, shapes, pitches, and timbres, which have little in common beyond the fact that they are played either by smashing them together or hitting them with sticks, and the kids who play these instruments tend to be correspondingly offbeat. Yet, for reasons unknown, percussion sections over the ages have served as breeding grounds for lifelong friendships among a widely diversified collection of characters, and such was the case with me and my friend, "Bungalow Bill". 
Like the bass drum he played, Bill was large and lovable, a steady beat, the backbone of the band, supporting everyone else. He had no patience for stupidity but a fondness for nonsense, and there was a lot of that to be enjoyed at pit band rehearsals for the school's musical, 42nd Street. During that show, at one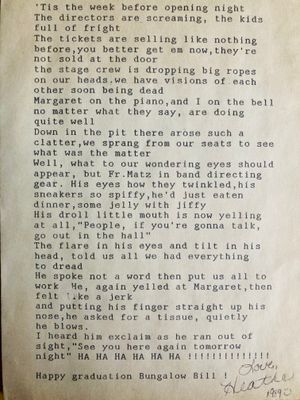 lengthy, late-night rehearsal or another, being extraordinarily unencumbered as the lowest person on the totem pole, playing only an occasional note or two on the glockenspiel, I penned a rhythmic parody of an age-old Christmas poem, and entitled it, 'Twas the Week Before Opening Night. In this extraordinary literary work I observed the ridiculousness of our rehearsal, including a comment or two about the spiffy sneakers that our beloved, neurotic musical director, a Catholic priest, had changed into that evening, and the peanut butter and jelly sandwich I imagined he had eaten for dinner in the sliver of time between school and rehearsal. I sat grinning but undetected as the lines flowed, and Bill snickered with tears in his eyes, holding his mouth to stifle the chortling each time he looked at my notebook. 
He graduated when I was a sophomore, so I typed up the poem and glued it to the back of a photo that my mom had taken of us during band camp that year, and gave it to him as a graduation gift, a small token of our friendship that was delivered with a wish for a bright and happy future as we parted ways.  
Thanks to a few informal band reunions and social media, I was able to reconnect with Bill many years later, and found that he was still supporting others and serving the community as a dedicated first responder; then in June of this year, a day or so after commenting on one of his Facebook posts, I got the news that he had died. All I could think of were his parents and sister, whom he loved so much and who loved him - I had lost my mom not long after high school, when she was in her forties, like Bill. Those who know the pain of suddenly losing someone, especially someone so young, would never wish it on their worst enemy, let alone good souls like theirs. I attended his socially distanced funeral, but I was unable to approach his family to express my sympathy, thus I left them with a small wave from afar.  
Much to my surprise, a few weeks later, I received an email from his mom, asking me for my address, and a few days after that, the earth moved beneath my feet when I opened a package from her that contained the old photo of me and Bill from band camp with a now-yellowed poem still glued to the back, with the final line, "Happy graduation, Bungalow Bill," and a signature in my teenaged handwriting, "Love, Heathe 1989".  In her note, his mom mentioned that it must have meant a lot to him, if he had kept it all these years.  
"Art is long and time is fleeting..." writes Longfellow in his Psalm of Life, who seems to observe that art has the capacity to capture moments so that we feel them and remember them, yet it fails to stop the beat of time. The only thing we can carry with us as we march along are memories of small moments and the people who took the time to give them meaning. Thank you for making those fleeting moments count - rest easy, friend.